Dental Implants
If you're missing even one tooth, you probably noticed that everyday things like smiling, talking, and eating are more difficult than they were before. Maybe you've previously tried dentures only to find that they slip, click, or are just generally uncomfortable. Or maybe you've been told that you need a tooth, or multiple teeth, extracted and you're searching for a replacement option. Dental implants are the preferred, permanent tooth replacement option. They look and feel natural and provide you with the full function of a natural tooth. We bet that after just a little while, you'll forget you even have an implant!
Contact Us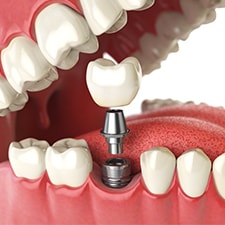 What Are Dental Implants?
A dental implant is a small titanium screw placed in your jaw that serves as a replacement tooth root.
Once it's had time to heal and fuse with the bone, it's just as strong as an actual root, meaning the restoration that we place on top – a crown, bridge, or denture depending on how many teeth you need to have replaced – can function just like natural teeth. That's right: you can talk normally and eat all your favorite foods again thanks to dental implants!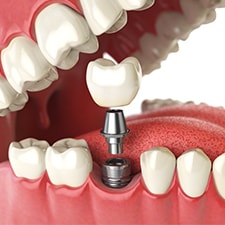 ---
Restoration Options
The number of teeth you're replacing will determine the restoration we recommend. We'll go over the best option for you at your consultation.
Dental Crown

– best for single-tooth implants. We'll design a crown that looks like your surrounding teeth, and once your implant is healed, we'll bring you in for placement and bonding.

Dental Bridge

– ideal for single-tooth implants or patients missing a couple of teeth in a row. A bridge connects to a crown on either side of the gap, and false teeth on the appliance "bridge the gap" left by the missing teeth. They'll look natural and function like your other teeth.

Implant-Supported Dentures

– great for those missing most or all teeth in an arch. Read on for more information on denture stabilization.
Benefits of Dental Implants
Permanent tooth replacement
Look, feel, and function like natural teeth
Replace one or many teeth
Care for implants like you would your natural teeth
Can last a lifetime with proper care
Schedule a Consultation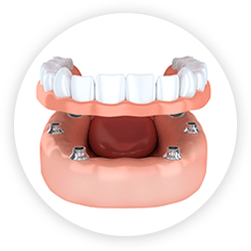 Denture Stabilization with Dental Implants
If you're missing most or all the teeth in an arch or your whole mouth, or you currently wear dentures that slip or click, implant-supported dentures could be a great option for replacing your teeth.
Dental implants stabilize dentures, making them more comfortable than ever before and removing the need for messy adhesives. With implant-supported dentures, we strategically place implants in your jawbone, and then drill holes into your denture to match the placement of those implants. Instead of placing a crown or bridge onto the implant, we top it with a ball joint that fits into the hole on your denture. This lets you snap your denture into place on your implant, so it fits securely without slipping or clicking. You can feel confident in talking, smiling, and eating all your favorite foods without fear of your dentures falling out. Want to learn more? Call our office to schedule a consultation!
Call Today