Oral Surgery & Wisdom Tooth Extractions
Our goal is always for you to keep your natural teeth, but sometimes damage or decay is too extensive for us to save a tooth. If that's the case, don't worry about being referred out to a dentist you don't know for oral surgery. We can take care of tooth extractions, including wisdom tooth extractions, and other oral surgeries right here in our Aberdeen dental office. Our team is highly skilled in caring for your needs, and we'll send you home with detailed care instructions to help you heal fast.
Contact Us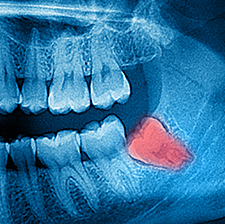 Wisdom Tooth Extractions
The third set of molars – known as wisdom teeth – often erupts in a person's late teens or early 20s.
Most people have two in their top arch and two in the bottom arch, though that's not always the case. Oftentimes, there isn't enough room in the mouth for wisdom teeth to properly erupt, which can cause problems with the rest of your teeth and lead to a need for extraction.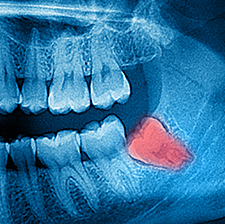 ---
Problems Caused by Wisdom Teeth
Crowding of other teeth
Improper or incomplete eruption of wisdom teeth, leading to impaction or infection
Abscess caused by improper eruption
Facial swelling
Jaw pain
Extraction Process
Before we even begin your wisdom tooth extraction, we'll take a panoramic X-ray of your teeth and jaws. This gives us a good look at your wisdom teeth, where they are, and how they're positioned in your mouth. To keep you comfortable during the surgery, we'll provide you with sedation. We'll make small incisions in your gums to remove the teeth, seal the gums, and clean the area. Before sending you home, we'll make sure you come out of the sedation okay and have someone to take you home since you'll feel a bit woozy. Be sure to follow our post-op care instructions and keep the areas clean. Follow up with us at the recommended time, so we can take a look and make sure you're healing properly.
Schedule a Consultation
Other Tooth Extractions
Infection, decay, and extensive damage can all lead to a need to extract a tooth.
We always do all we can to save your tooth first, but if we need to extract a tooth to preserve the integrity of your surrounding healthy teeth, we'll walk you through the process, your sedation options, and your tooth replacement options before we begin. Don't hesitate to ask us any questions, either. We want to make sure you're completely comfortable with your treatment plan.
Learn More
---
Bone Grafts
If we've recommended that you get dental implants, but your jaw isn't strong enough to support the implant, we may recommend a bone graft to build up the jaw.
Our Aberdeen dentist can perform the surgery here in our office. With a bone graft, we surgically transplant a specialized material onto your jaw bone. Over a period of a few months, this material helps your jaw develop new bone. Once the new bone is strong enough, we can then place your implant and complete your dental implant procedure.
Learn More